Google's annual developer conference kicked off the keynote on Wednesday where the company showed off tons of new features added to the Google Assistant, Search, Maps and the Google Workspace suite. 
Aside from software updates and announcements, Google also announced the Pixel 6A, Pixel 7 and Pixel 7 Pro as well as a Pixel Tablet. There's also a Pro version of the Pixel buds now.
In the News: Fake customer support websites are duping Canon printer owners
Pixel Buds Pro
Google's first active noise cancellation earbuds are also here. The Pixel Buds Pro have a new custom audio processor with six cores and a neural processing engine. The custom processor will also give up to seven hours of battery life with ANC enabled, or 11 hours without the feature.
The earbuds also support multi-point connectivity and will work with compatible phones, laptops, tablets and TVs. Spatial audio support is also coming later this year. They're compatible with Find My Device as well, so finding lost earbuds should be easy.
The buds go on sale for $199 with pre-orders starting July 21.
Pixel Watch
Google has finally announced its first smartwatch, the Pixel Watch which is coming later this fall alongside the Pixel 7 and Pixel 7 Pro. As per the leaks, the watch has a circular dial with a crown button.
Google says the watch will run an "improved" version of Wear OS 3 featuring a refreshed UI focussing on better notifications and smart notifications. The watch will also get FitBit integration, and native Google Apps like Maps, Assistant as well as Google Wallet and Google Home.
Google hasn't released any pricing details yet apart from saying it's a "premium" product. Another major change is that the watch will require a phone Android 8 or later and a Google account, meaning unlike the Galaxy Watch 4 (running Wear OS 3) it won't be compatible with Apple devices.
Android 13
The first beta to Android 13 has already dropped giving us insights into Google's security measures to restrict apps from taking over devices. The second beta has just been announced at the keynote.
Android 13 extends the Material You design style allowing themes for app icons and a new music player that automatically changes themes according to what you're playing. You can now set custom languages per app. And RCS is finally coming to Android as well.
Security improvements
Instead of allowing apps to access your files directly, you can instead give permissions for two new categories, namely "Photos & Videos" and "Music & Audio". The previously announced Photo Ticker goes one layer further and gives per photo permissions when needed.
Android 13 will also ask you permission before an app is allowed to send you notifications. The number of apps that require access to your location. Users will no longer need to grant location permissions to apps to enable WiFi scanning.
Clipboard access will also be pointed out to users. Additionally, Android will automatically delete your clipboard history after a short period. Later this year, a unified Security and Privacy settings page will also be launched in Android 13 providing a clear colour-coded indication of your safety status.
Better support for larger screens
Building on Android 12L's work, Android 13 is now better optimised for large screens and foldable. It has better multitasking capabilities for tablets. The taskbar has also been updated allowing quick switching to split-screen by simply dragging and dropping app icons.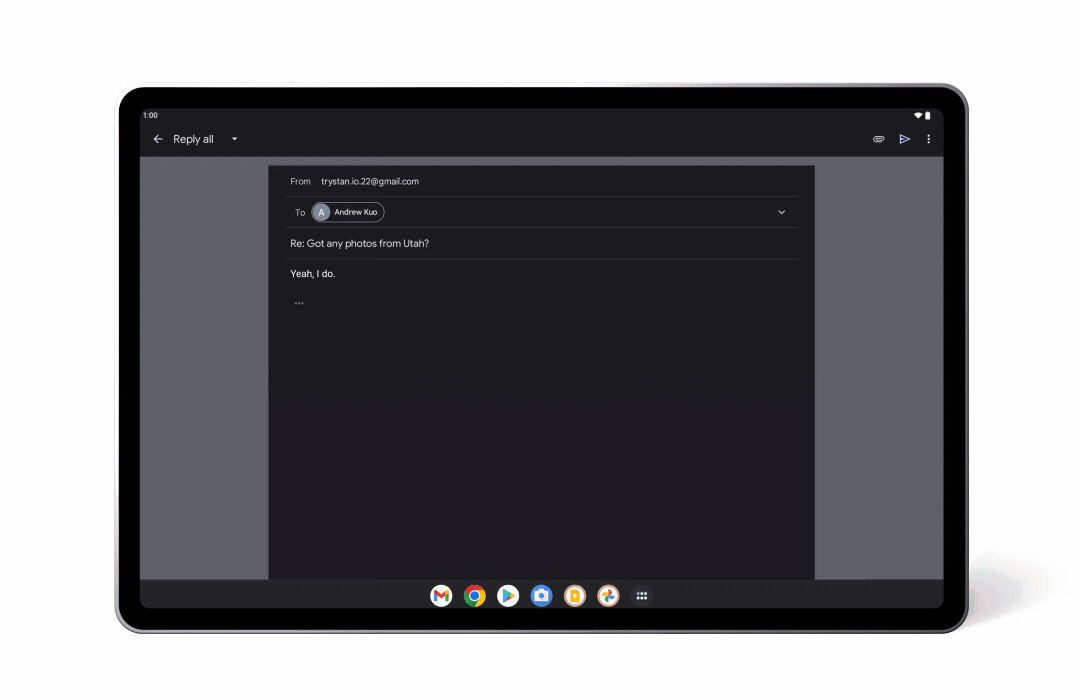 Stylus misidentification rate has also lowered in Android 13 and over the next few weeks, over 20 Google apps will be updated to take better advantage of the large screen optimisations.
Google Wallet
Android 13 and Wear OS are also getting a new Google Wallet coming soon in over 40 countries. Aside from paying with your cards already saved in Google Pay, the company has also partnered with transit agencies, retailers, ticket providers, health agencies and airlines for them to create digital versions for their cards and tickets to be saved and used straight from the resurrected wallet.
New tools to take control of your data
Google is now launching something called "My Ad Center" to give users more control over the ads they see across Google services. Users can now opt-in and out of brands and categories that show them ads. 
A new tool called "Results about you" will also allow taking more control of your online presence by making it easy to remove search results that contain personally identifiable information. 
Updates to Google Services
Several of Google's services are also getting updates. 
Assistant
Google Assistant is getting a few updates to make it easier to communicate with. For users with a Nest Hub Max, you can just look at the device and start talking. The feature is opt-in only and will require you to have both Google's Face match and Voice Match technologies enabled to work. Audio and video from the interactions will be processed locally. 
Quick Phrases are also expanding to more than just shutting off alarms and timers. Quick phrases can now control smart home lights and tell you the weather among other things.
Speech and natural language understanding are also getting better on devices, making communication easier and more natural when talking to your assistant. 
Google Search
Multisearch, announced last month, can now work based on your location by simply adding 'near me' to your search.  Mutlisearch near me can easily find things at local businesses. It'll be available globally in English later this year. Multisearch now also works for multiple objects at the same time.
Another feature coming to search is Scene Exploration. You can now scan entire product shelves with your phone's camera and find insights overlayed on the products themselves. 
New features to Google Maps
Google Maps now has a new immersive view mode which can show you 3D renders of places. Immersive view can also show you the inside of restaurants using a flyover view created with neural rendering created from still images.
Eco-friendly routes, announced last year, are coming to Europe now. 
Security additions
Chrome and Android are now getting virtual cards. This means that you can generate virtual card numbers for your VISA, Mastercard, American Express and Captial One cards to pay securely. This feature is rolling out starting this summer. Two-factor authentication is also enabled by default now. 
The company is now taking a new approach to managing data called "protected computing". This will ensure the protection and security of your data by collecting less and deleting more in the first place. Google will also de-identify your data by adding statistical noise and blurring it, before restricting access as well. 
YouTube
YouTube can now auto-generate chapters in addition to automatically providing video transcripts. Auto-translated captions are also expanding to include more languages. 
Google Workspace
Google Docs is now getting an auto-summary feature which can compress your Google Docs into a simple paragraph. Summarisation is also coming to other Google Workspace products as well. It'll launch next month. Phishing protection is also coming to Google Docs, Sheets and Slides. 
Transcription and summaries are coming to Google Meet as well. In addition to automatically enchanting camera quality and adding AI-driven artificial lighting. 
In the News: Apple discontinues the iPod; available to buy till stocks last