Google Assistant app for Android and iOS has been updated with a real-time translator, dubbed the Interpreter mode, which was released earlier this year in February to Assistant in Google Home devices and smart displays
The feature helps users have a back and forth talk with Google Assistant as if they were in conversation with someone speaking a foreign language. It can be a useful feature while travelling as it lets users translate across 44 languages — 15 more than the ones available on Assistant-enabled smart speakers, displays and clocks — on both Android and iOS.
The feature update has started to roll out on Assistant-enabled Android phones as well as for iOS devices worldwide.
To use the interpreter mode on a device, users need to say phrases like, "Hey Google, be my German translator" or "Hey Google, help me speak Spanish" and they'll begin to see and hear the conversation on their phone.
The Assistant might also provide smart replies during the conversation to help users carry on with the conversation without needing to speak — making things faster. You can choose to type or talk to the Google Assistant through this real-time translations via interpreter mode.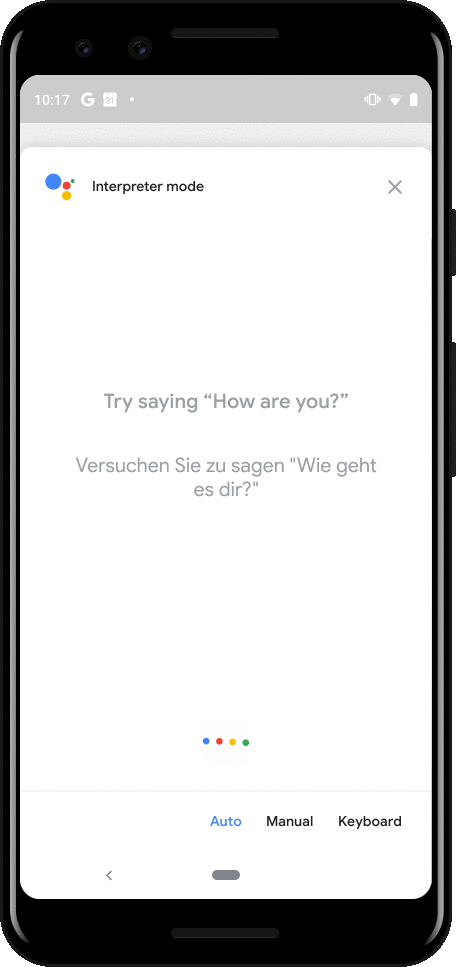 "Whether you're heading on a trip this holiday season, gearing up for international travel in the New Year, or simply want to communicate with family members who speak another language, interpreter mode is here to remove language barriers no matter where you are," Google announced.
Also read: Top 7 locker apps for Android
Languages supported by Google Assistant's Interpreter mode
At the time of writing this report, users can translate in real-time in these 44 languages via Google Assistant app on their phones and tablets.
Arabic
Bengali
Burmese
Cambodian (also called Khmer)
Czech
Danish
Dutch
English
Estonian
Filipino (Tagalog)
Finnish
French
German
Greek
Gujarati
Hindi
Hungarian
Indonesian
Italian
Japanese
Javanese
Kannada
Korean
Malayalam
Marathi
Nepali
Mandarin
Norwegian
Polish
Portuguese
Romanian
Russian
Sinhala
Slovak
Spanish
Sudanese
Swedish
Tamil
Telugu
Thai
Turkish
Ukrainian
Urdu
Vietnamese
Also read: Incognito mode on Google Maps comes to iOS
Writes news mostly and edits almost everything at Candid.Technology. He loves taking trips on his bikes or chugging beers as Manchester United battle rivals.
Contact Prayank via email: [email protected]