Android users will now be able to automatically backup their phone data with the recently updated Google One app, which offers paid upgrades to the 15GB free cloud storage available to all Gmail users.
The storage plan covers the data in Google Drive, Gmail and Google Photos, all of which can be managed from the app. With the new update, Google One will enable users to automatically backup their phone data including photos, contacts, messages, apps and more — much like iCloud does for iPhone and iPads.
Users on Google One's paid plans will also have the option to call, email or chat with Google experts and can also avail extra member benefits like Google Play credits, special hotel pricing, among others.
These plans can also be shared with up to five family members, who will get all the additional benefits alongwith the shared storage. While family members share the storage, they won't be able to view each other's file, unless it has been shared with them.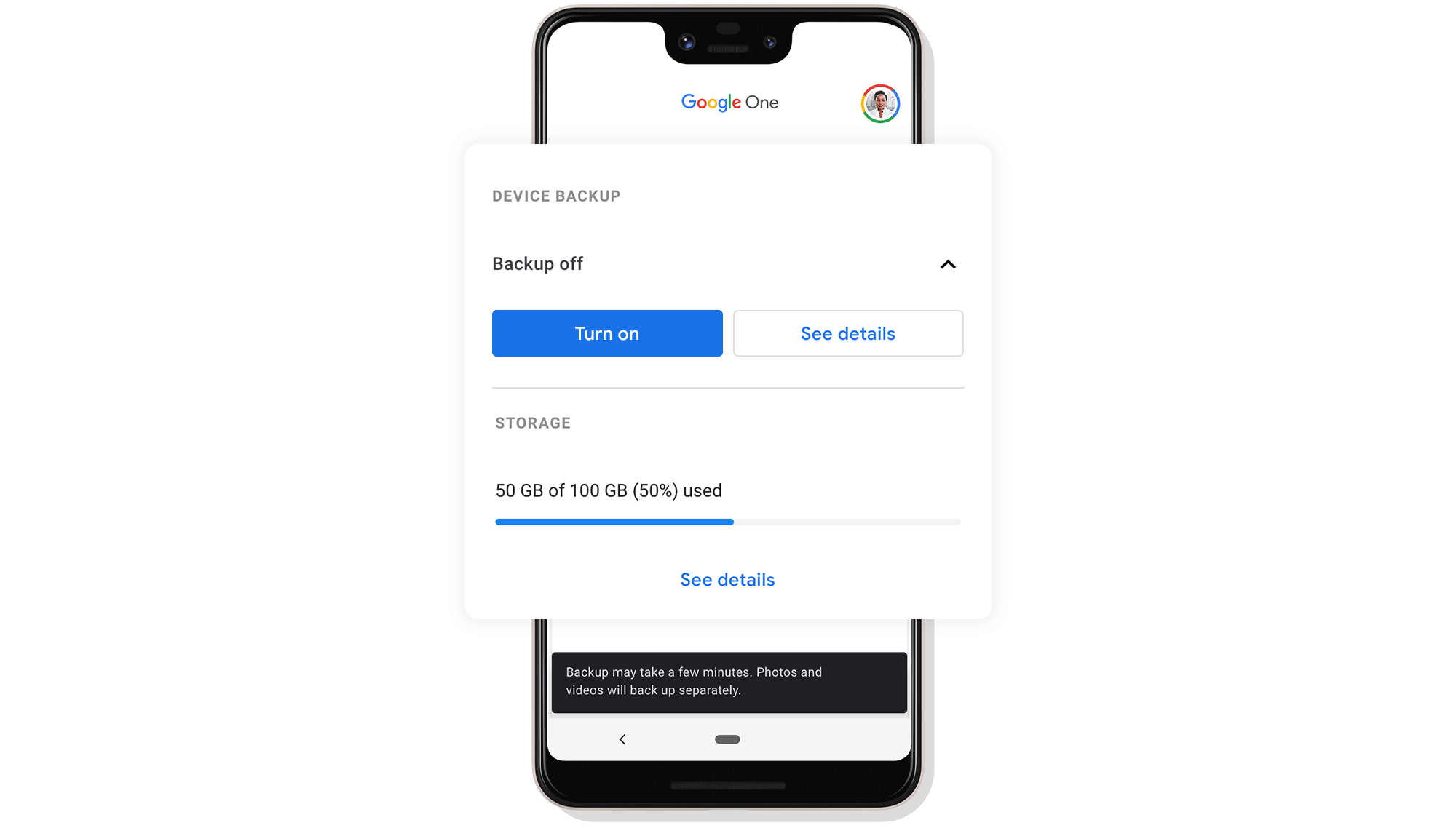 The app doesn't change how Google Drive works. It will continue to function in the same manner, but with Google One, you get additional benefits as well as provide you with all the storage information in one place.
"With Google One, you already get more storage for your photos, videos and documents—giving you the peace of mind that your memories and important files are stored in the cloud. Now with automatic phone backup, we're taking another step in helping you keep the stuff you care about safe," Larissa Fontain, GM at Google One, announced.
"With automatic phone backup by Google One, you'll also be able to back up original quality photos, videos, and multimedia messages (MMS)"
Also read: What is G Suite? Price and plans compared
Google One storage plans
Google One offers six paid plans, which are listed as follows.
100GB storage: INR 130/month or INR 1300/year
200GB storage: INR 210/month or INR 2100/year
2TB storage: INR 650/month or INR 6500/year
10TB storage: INR 6500/month
100TB storage: INR 13000/month
200TB storage: INR 19500/month
Also read: Is it safe to unlock your Android smartphone's Bootloader?
List of countries where Google One is available
Google One membership is currently available in the following countries:
Albania
Algeria
Angola
Antigua and Barbuda
Argentina
Armenia
Aruba
Australia
Austria
Azerbaijan
Bahamas
Bahrain
Bangladesh
Belarus
Belgium
Belize
Benin
Bermuda
Bolivia
Bosnia and Herzegovina
Botswana
Brazil
British Virgin Islands
Bulgaria
Burkina Faso
Cambodia
Cameroon
Canada
Cape Verde
Cayman Islands
Chile
Colombia
Costa Rica
Côte d'Ivoire
Croatia
Cyprus
Czech Republic
Denmark
Dominican Republic
Ecuador
Egypt
El Salvador
Estonia
Fiji
Finland
France
Gabon
Georgia
Germany
Ghana
Greece
Guatemala
Guinea-Bissau
Haiti
Honduras
Hong Kong SAR China
Hungary
Iceland
India
Indonesia
Ireland
Israel
Italy
Jamaica
Japan
Jordan
Kazakhstan
Kenya
Kuwait
Kyrgyzstan
Laos
Latvia
Lebanon
Liechtenstein
Lithuania
Luxembourg
Macau SAR China
Macedonia (FYROM)
Malaysia
Mali
Malta
Mauritius
Mexico
Moldova
Morocco
Mozambique
Myanmar
Namibia
Nepal
Netherlands
Netherlands Antilles
New Zealand
Nicaragua
Niger
Nigeria
Norway
Oman
Pakistan
Panama
Papua New Guinea
Paraguay
Peru
Philippines
Poland
Portugal
Puerto Rico
Qatar
Romania
Russia
Rwanda
Saudi Arabia
Senegal
Serbia
Singapore
Slovakia
Slovenia
South Africa
South Korea
Spain
Sri Lanka
Sweden
Switzerland
Taiwan
Tajikistan
Tanzania
Thailand
Togo
Trinidad and Tobago
Tunisia
Turkey
Turkmenistan
Uganda
UK
Ukraine
United Arab Emirates
Uruguay
US
Uzbekistan
Venezuela
Vietnam
Yemen
Zambia
Zimbabwe
Also read: Android 10 rolled out to Google Pixel phones: 15 new features
Writes news mostly and edits almost everything at Candid.Technology. He loves taking trips on his bikes or chugging beers as Manchester United battle rivals.
Contact Prayank via email: [email protected]