On August 20, Apple ventured into the banking business by launching Apple-branded credit cards for its US customers, which were first announced on March 25, 2019. According to the company, Apple card promises to be safe and secure, with no added information such as card number, CVV number, expiration date or the signature of the cardholder.
Apple has partnered with Goldman Sachs and Mastercard to provide the card service. As the company claims, Apple Card is based on the security features of Apple Pay. For every Apple Card, there is a unique code generated by the corresponding iPhone and stored in the Secure Element.
Furthermore, every purchase from the card will require two codes — device number and a one-time security code generated by the iPhone at the time of purchase authorisation. For authorising a purchase, you can either use Face ID or Touch ID. These two features ensure that even if the iPhone is with someone else, they cannot purchase with it.
Also, any transaction history will be imported to the Wallet app on the iPhone. The customers have the option to freeze the card if they lose it, and order a new one through the Wallet app.
"We're thrilled with the overwhelming interest in Apple Card and its positive reception," said Jennifer Bailey, Apple's vice president of Apple Pay. "Customers have told us they love Apple Card's simplicity and how it gives them a better view of their spending."
Also read: 6 best iOS 13 improvements no one is talking about
How to apply for Apple card? 
If you need to apply for Apple Card, follow the instructions given below:
Open the Wallet App on your iPhone.
On the upper right corner, tap on the '+' icon.
Now, select the Apple Card option.
Fill the details like your name and email account number, among others.
Set the card limit and read the Customer Agreement from Goldman Sachs.
Tap on Accept Apple Card.
Other features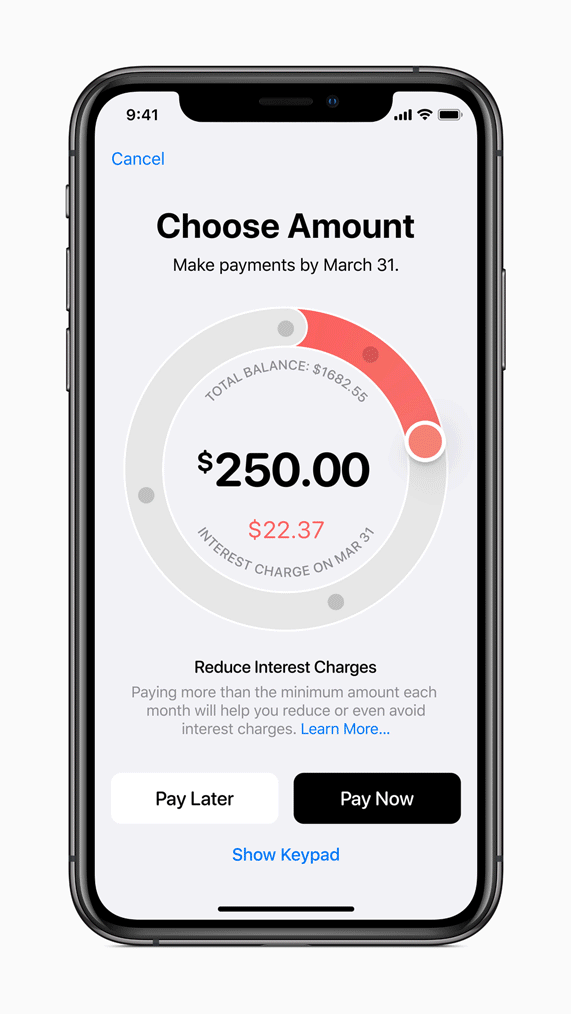 Apart from the security features, the card holds other exciting features, which are as follows:
Easy signing up with Apple Pay.
Daily Cash, a reward program which gives back a percentage of every purchase made by Apple Card. As per the company, " Customers will receive 2% Daily Cash every time they use Apple Card with Apple Pay, and 3 percent Daily Cash on all purchases made directly with Apple, including at Apple Stores, apple.com, the App Store, the iTunes Store and for Apple services." The company is planning to extend this service to more merchant apps, and of now this service is applicable on Uber and Uber Eats. (If you purchase an item with titanium Apple Card, then you will get 1% Daily Cash).
No fees whatsoever (not even hidden).
Different colours for different items that you buy.
Automatic real-time interest calculation on any amount of purchase, so that you can make informed decisions about the down payments.
Maps for pinpointing transactions.
Due date reminder.
For apps and websites that do not yet accept payments from Apple Pay, the virtual card number on the Wallet app automatically fills if you are using Safari browser.
Also read: Snapdragon 855 Plus vs Apple A12 Bionic
More in News