Google has announced several updates coming first to Chromebooks. These updates include improvements to the default Gallery app to allow PDF editing, a new Screencast app to record screens, a Cursive app to capture, edit and organise handwritten notes on stylus-enabled notebooks as well as a basic video editor. 
Starting next week, Chromebook users can highlight text, fill out forms, sign documents and add text annotations to their PDF files directly from the Gallery app. Chromebooks previously didn't have native PDF readers, so integrating this functionality in the Gallery app removes a lot of hassle for an otherwise simple task. 
The Screencast app will allow users to record, view and share transcribed videos and presentations, while the Cursive app focuses on stylus-based inputs, letting users capture, edit, organise and share handwritten notes or export them as a PDF document. 
In the News: Google rolls out the unified Gmail interface
Editing videos on a Chromebook
Chromebooks are thin, light devices built for everyday tasks and do not have the computing power required to run video-editing software on their own. However, the latest update to Google Photos brings a new movie editor to the platform. The editor will be available later this fall on Chromebooks first. 
Users will be able to select a theme and the people (or pets) from their gallery that they'd like to feature in the final video. Google Photos will then automatically make a video using both video clips and photos available on the device. The company claims it'll be able to "intelligently select" the most meaningful moments from longer clips. 
For those who want to take matters into their own hands, Google Photos is also getting a movie editing feature, which will support the photo management app's image search capabilities to make it easier to search for and arrange photos and video clips. 
Regardless of which approach is chosen, users will be able to edit the final result with more advanced controls, including brightness and contrast adjustment. Google's Real Tone filters will also be supported in the editor.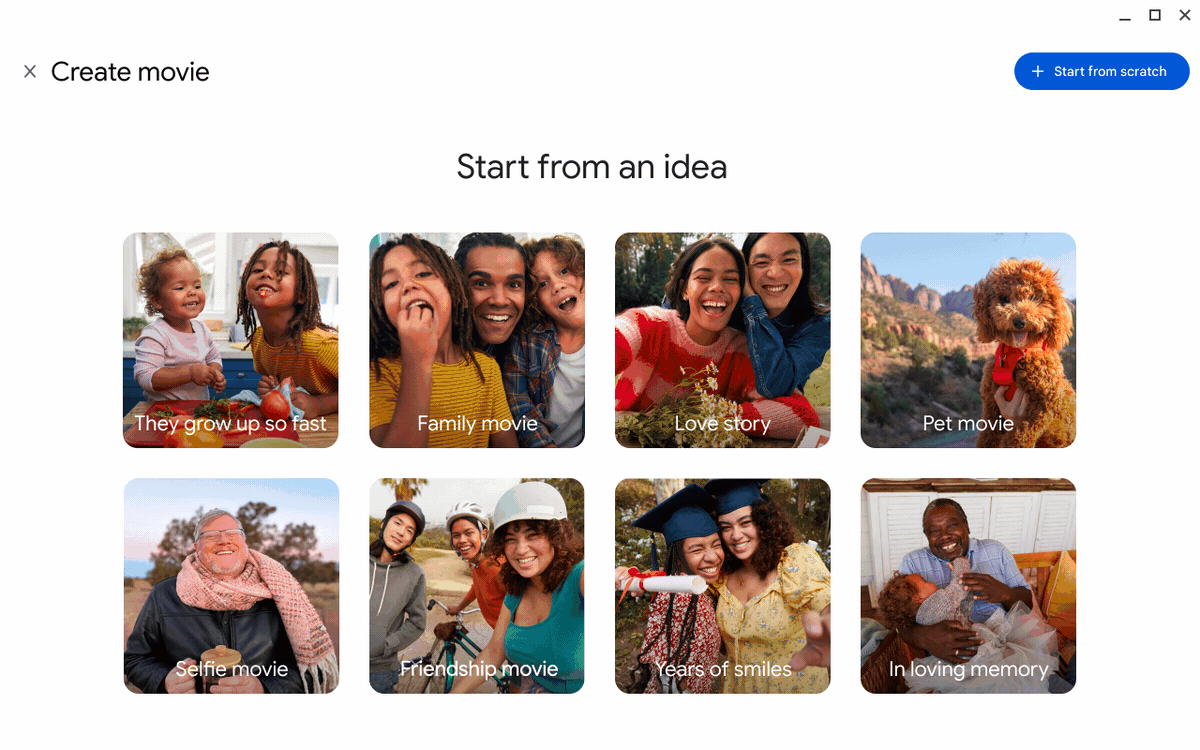 Since the Google Photos app integrates with a Chromebook's Gallery and File apps, any videos or photos opened in the Gallery can directly be imported to the new movie maker.
In addition to that, another, more advanced video editing tool, LumaFusion, is also coming to Chromebooks. Google didn't announce a release date for the upcoming app. 
In the News: Hackers are using Windows, Adobe zero-days to deploy subzero malware