Google is rolling out a new paid subscription for Android users, called Google Play Pass, later this week that gives access to more than 350 apps and games without any upfront cost or in-app purchases, and also ad-free.
Google Play Pass will be available at an introductory price of $1.99 per month for the first year and $4.99 thereafter. The introductory offer ends on October 10, 2019, and currently, Google is also offering a 10-day free trial. The paid subscription is currently only available to Android users in USA. International availability will be disclosed later.
Apps and games like Terraria, Monument Valley, Risk, Star Wars: Knights of the Old Republic, and AccuWeather will be available alongwith the subscription.
Subscribers will see a new Play Pass tab in the Play Store app where they can find all the available apps under this plan. The apps and games available in the subscription are otherwise also searchable in the app and will show up with a Play Pass 'ticket', which signifies that those apps or games are available to your under the paid Google Play subscription.
A single subscription can also be shared among six family members, who can make individual profiles and will have a customised experience with a single subscription.
Also read: Top 7 iOS launchers for Android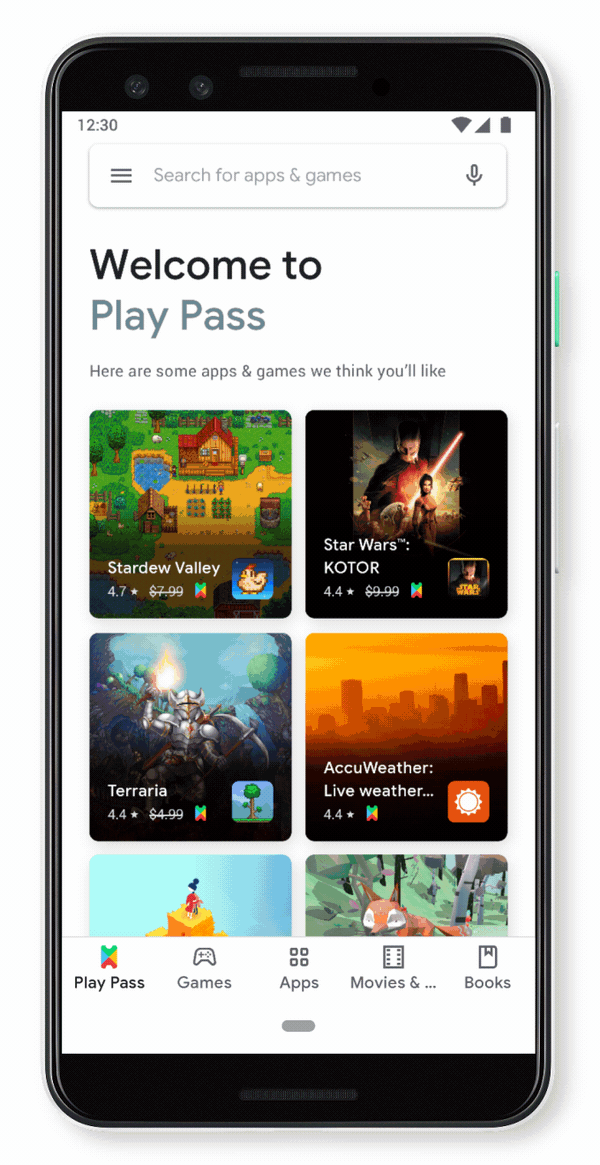 Also read: What is Error Code 495 and how to resolve it?
List of games and apps available with Google Play Pass
Following are few of the several hundred games and apps that will be available with Google Play Pass.
Thimbleweed Park
Door Kickers
.projeckt
60 Seconds! Atomic Adventure
King's League: Odyssey
Suzy Cube
Titan Quest
Game Dev Tycoon
This is the Police
One More Line
Evoland
ISS HD Live: View Earth Live
Terraria
Framed
80 Days
ELOH
Lumino City
Star Wars: Kotor
Limbo
Bridge Constructor Portal
Reigns: Game of Thrones
Risk
TocaNature
Tunable: Music Practice Tools
Sorcery! 4
Monument Valley 2
Mini Metro
Stardew Valley
Toca Mystery House
Old Man's Journey
Chameleon Run
Wayward Souls
Thomas & Friends: Race On!
Swordigo
Agent A: A puzzle in disguise
Pocket City
Pic Stitch – #1 Collage Maker
Tiny Guardians
AccuWeather: Daily Forecasts & Live Weather Reports
Lichtspeer
Death Squared
The Tiny Bang Story
Absolute Drift
The Battle of Polytopia
Hoplite
Hidden Folks
Grim Legends: The Forsaken Bride (Full)
Shadow Fight 2 Special Edition
Star Wars: Knights of the Old Republic
Google Play Pass is compatible with devices running Android 4.4 and newer and Play Store version 16.6.25 and above.
Also read: Android 101: How to redeem code for Google Play store?