Finding podcasts has been made even easier as Google rolls out an update for Search. Users will now be able to search for podcasts about specific topics.
Playable podcast episodes will surface in the search results alongside the regular links, images, videos and news. With north of 2 million podcasts available to listen online, Google is making it easier for anyone to find and listen to a podcast directly via Search.
The feature has been rolled out today and can be used in English in USA.
Currently, users will need to prefix or suffix their search term with the word 'podcast'. For example "Podcast on cybersecurity" or "Science podcasts", but this necessity will go away soon and users will be able to search for podcasts without the term included.
Also read: Top 11 podcasts that every tech geek must follow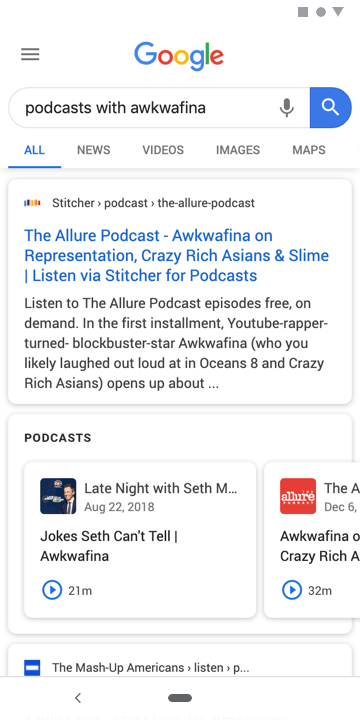 While finding podcasts is currently limited to Google Search, the same capabilities will be expanded later this year to Google Assistant and Google Podcasts (for web). Following the update on the Assistant, users will be able to ask the Assistant to play podcasts about a certain subject — in the same manner as you would search. The Assistant will suggest you relevant podcast episodes, which you can then play.
Google Podcasts for web will allow users to search for podcast shows and episodes and listen to them right from their phone or PC.
As is standard with Google products, if you have the account sync on, the listening progress will be synced across devices.
Podcast publishers will also be able to specify to the users where they can listen to the podcasts — via specific apps or websites. This will allow users to find exclusive paid podcasts.
Earlier today, Google announced updates to its Maps app and Travel website, which adds features to both the platforms that were previously present on the now discontinued Trips app, among other new features.
Also read: 7 best podcast apps for Android and iOS
More in News